Exploring Norfolk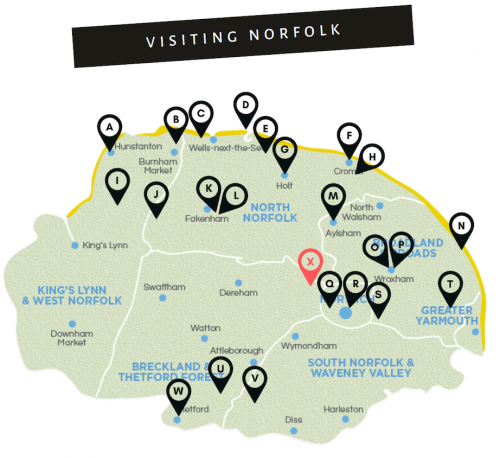 A guide to the wonderful places near us…
A D N – Seal Pups
Head to Blakeney Point (D) & Horsey Gap (N) between November to the end of January to see the Grey Seals and their pups.
Visit Blakeney Point (D) & Hunstanton sandbanks (A) between June & August to see the Common Seals and their pups.
B – Burnham Overy Staithe
Great location for a walk – head towards the beach and on the way you'll walk past boats, salt marshes, sand dunes before eventually reaching the beautiful & secluded beach. You can also do a circular walk – which can be found on the National Trust website.
Head to The Hero for lunch whilst your there! (PE31 8JE)
C – Holkham
Great location for a walk – walk through the forest, over the dunes to the beach. You can even walk to Wells (right) and back in a couple of hours – head there via the beach and walk back through the forest to explore both!
Visit The Victoria for lunch whilst there! (NR23 1RG)
Take a look inside the Adnams shop in Holkham.
Tour around Holkham Hall, a beautiful historic location.
Watch the wildlife from 'The Lookout' at the end of Lady Anne's Drive in Holkham and enjoy a snack in their café that's committed to reducing waste and not using single use plastic!
Explore the whole of Holkham Nature Reserve
E – Cley Marshes (NR25 7SA)
Norfolk Wildlife Trust's oldest and best known nature reserve are Cley Marshes.
With a eco-friendly visitor centre that contains a café, shop, and viewing area this is a beautiful and breath-taking place to visit.
F – Cromer, Sheringham & East Runton
Three beautiful and different beaches in close proximity to explore.
Head to Cromer to take a walk down the pier, watch a show and explore the town. Finish off your trip with fish and chips from NO.1 an award winning fish and chip shop.
Visit Sheringham a traditional seaside town full of shops, café's and Fat Ted's Street Food (delicious!). Then take a trip to the National Trust's Sheringham Park, which offers great sea views and if you reach Beeston Bump you'll have a brilliant view from 103m up!
East Runton is a beautiful section of the coastline, more secluded from the hustle and bustle, enjoy the tranquillity here on the beach. 
G – Holt
A pretty 18th century Georgian shopping town that is home to many art galleries, antique and book shops and places to eat.
Byfords is the ideal stop for a spot of breakfast, lunch, afternoon tea or dinner. Their seasonal menus celebrate the best of North Norfolk! They've also got a beautiful store onsite too (NR25 6BG).
Make sure you see all the key landmarks by following the Holt Owl Trail (you'll see the owl pavement plaques).
Holt Country Park is a short walk away and is a beautiful natural park with 100 acres of woodland, picnic areas and nature trails (NR25 6SP).
Catch the Poppy Line steam and diesel trains to Weybourne and Sheringham from the North Norfolk Railway Station just outside Holt!
H – Felbrigg Country Park (NR11 8PR)
Felbrigg Hall is one of the most elegant country houses in East Anglia. The inside of the house is imaginative and the outside of Felbrigg Hall is a gardeners delight. With 520 acres of woods and waymarked trails you can explore nature and wildlife freely.
I – Sandringham Estate (PE35 6EN)
Take a stroll around the Queens Sandringham Estate – you never know you may even see her!
Explore the house, gardens, country park and try one of their tea rooms or cafes for lunch.
J – Houghton Hall (PE31 6TY)
Visit Houghton Hall – one of Norfolk's most beautiful stately homes – Houghton plays host to many exhibitions so take a look what's on during your stay.
Explore inside & outside Houghton Hall, including the walled garden, if you are interested in contemporary art and sculpture this is the place for you.
Enjoy The Soldier Museum, the largest private collection of model soldiers in the world.
Head back via The Crown in East Rudham for a spot of lunch (PE31 8RD).
K – Langham Glass (NR21 8ET)
A family business – Langham Glass – is open all year round, you can see their team of glassmakers using age old techniques to make the finest handmade crystal.
Stop in at The Brisley Bell on the way home for a delicious Gastro Pub experience!
L – Pensthorpe Natural Park (NR21 0LN)
One of the most biodiverse nature reserves in England, Pensthorpe became the home of BBC's Springwatch programme in 2008-10. They are pioneering a new vision for conservation, experiential nature and wellbeing.
M – Aylsham
O – Hoveton Hall Gardens (NR12 8RJ)
Lake, wells, woodland, kitchen gardens – there is an abundance of gardens on the Hoveton Hall Estate to admire.
P – Norfolk Broads
Q – Sainsbury's Centre For Visual Arts (NR4 7TJ)
The Sainsbury's Centre situated at The University of East Anglia, this world class building houses modern European art & work from across the globe. Featuring special exhibitions and events it's not to be missed.
R – Norwich
Norwich Castle – one of Norwich's most famous landmarks, built 900 years ago it is now a museum and art gallery. Full of fine art, archaeology and natural history it's a great visit for all ages (NR1 3JU).
After visiting the Castle, take a wander into Norwich Market to enjoy a variety of delicious treats that aren't to be missed (NR2 1ND).
Discover Norwich Cathedral and explore art, culture, food, music, hospitality, learning & worship amidst Norfolk's favourite setting. It's one of England's greatest cathedrals (NR1 4DH).
Head to The Forum – one of the biggest public libraries in the UK (NR2 1TF)
Shop till you drop… from Jarrolds to John Lewis, Chapelfield to Castle Mall and the independent boutiques situated in the lanes you'll be spoilt for choice.
Take a stroll by the River Wensum that meanders throughout Norwich and you'll be able to see a lot of the medieval heritage of Norwich.
S – Whitlingham Country Park (NR14 8TR)
Walk, jog, cycle, picnic & birdwatch – or do something a little more adventurous…
Try a variety of water based activities at Whitlingham Adventure such as sailing, windsurfing, kayaking, rafting, canoeing, or land based fun such as off-road biking, climbing and archery. You can also hire a craft on the day, or take your own and buy a day pass.
T – Thrigby Hall Wildlife Gardens (NR29 3DR)
Thrigby Hall hosts a special collection of rare animals from Asia, from endangered tigers, huge crocodiles, noisy gibbons to many more species. With a unique network of raised walkways you can get up and close with this special creatures.
U – St Georges Distillery (NR16 2QW)
The first distillery in England in over 100 years it's the home of The English Whisky Co. and part of Norfolk's heritage.
Browse the shop, tour the copper stills and be tempted by over 200 whiskies on sale.
Pop into 'The Kitchen' on site for a for breakfast or lunch whilst your there.
V – Banham Zoo (NR16 2HE)
Banham Zoo is an award winning attraction has over 2,000 animals from around the world, set in 50 acres of parkland and gardens.
Aiming to advance education, zoology, animal welfare and environmental protection they are continuing with important work undertaken for wildlife conservation across the world.
W – Thetford Forest (IP27 0AF)
Visit High Lodge at Thetford Forest and enjoy activities such as archery, cycling & mountain biking, Go Ape tree top adventure, Go Ape segway trips, orienteering or a variety of walking trails.
Any questions about places to explore during your visit with us, please let us know & we will be happy to help.